15 Newsletter Growth Tips: How I Grew #SEOFOMO from +1K to 17K Subscribers within 2 Years
A couple of years ago I re-took my SEO newsletter that had 1.7K subscribers and grew it to be now 17K subscribers and one of the "go to" SEO newsletters in the industry. These are the insights, learnings and tips from the journey, so you can apply them too.
A couple of years ago, impressed by reading about The Morning Brew success story, going through newsletters stats showing how effective they are to engage and connect with a highly relevant audience in a channel that "you own", and about to start with a new SEO client that was in the email marketing / marketing automation sector, I decided to give my SEO newsletter another go as a new year "experiment/resolution". Even if I failed to grow it, the worse that could happen was that I was going to learn a lot about the type of journey and challenges that the customers of my client experienced.
Until then I had sent just a few, not so frequent "SEO Tips" newsletters along the years since 2014 or so, for which I had used a free Mailchimp account. Despite this "not so frequent" activity, by featuring the newsletter subscription box in my site, I had 1,752 subscribers. So I decided to leverage what I already had: I revamped the dedicated subscription page within my site, made sure to configure it with a double opt-in and comply with GDPR, and announced in Twitter that I was going to retake it and start sending the best SEO tips and resources I came across (not only mine) once per week. I rebranded it to be called #SEOFOMO.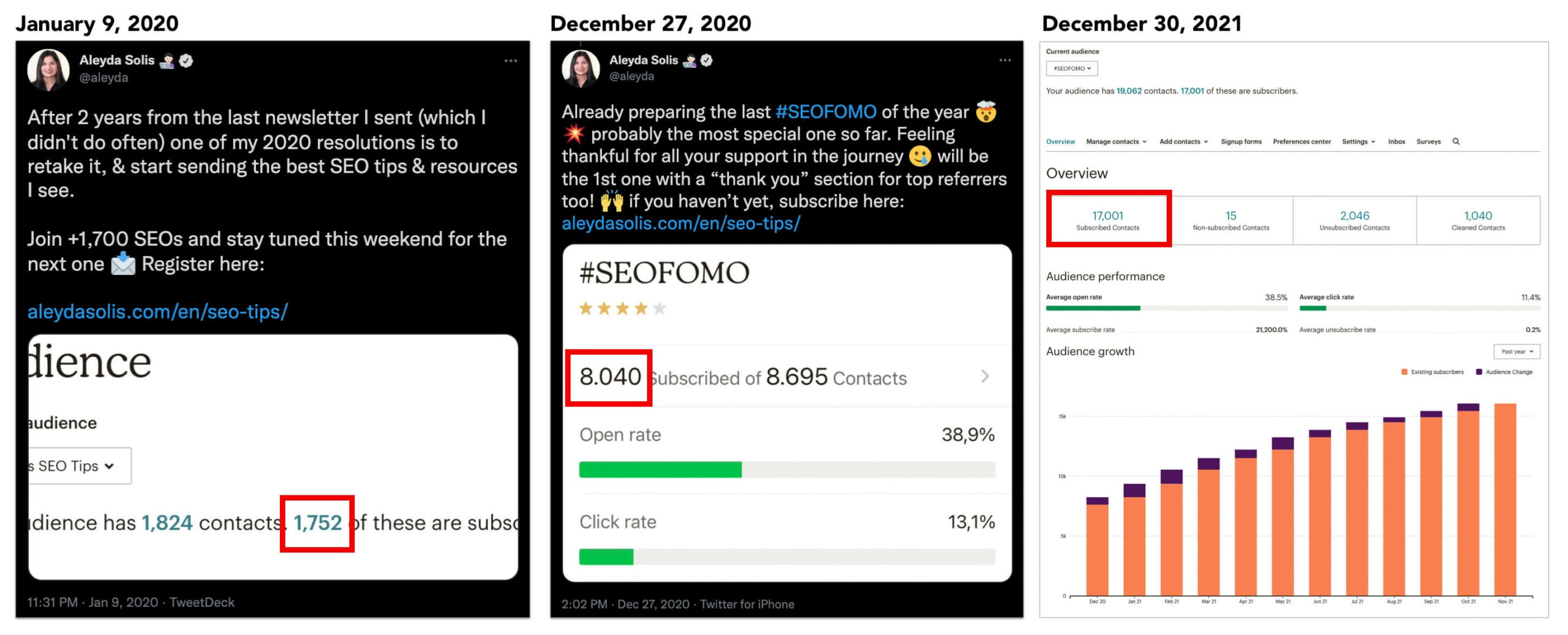 Almost a year later, on December 27 2020, the #SEOFOMO newsletter had grown to 8,040 subscribers, with a 38.9% open rate and 13.1% click rate. Two years later, on December 30 2021, #SEOFOMO has grown now to reach the 17,001 subscribers with a 38.5% open rate and 11.4% click rate. I include open rates and click rates along with the number of subscribers because the interest and engagement shown by your audience are as fundamental. There is no point on having 100K subscribers if they never open or click what you share in your emails anyway, right?
Today #SEOFOMO is now one of the best known newsletters in the SEO & Digital Marketing sectors, sent weekly, featuring the latest most important SEO related news, updates, resources, remote jobs, tools and SEO specialists to follow, with a weekly #SEOFOMO Chat organized in Twitter spaces every Monday at 6pm CET discussing and analyzing the top news and resources from each week.
The newsletter has also proved to be something I never expected: Attractive and easy to monetize, in a way that readers find it also relevant and useful, key to keep quality and engagement. Digital Marketing and SEO companies (especially tools) showed spontaneous interest to advertise #SEOFOMO since early on, becoming quickly profitable, while featuring sponsorships of attractive discounts, longer trials, case studies or resources.
However, although fun and profitable, the journey hasn't been always easy and has given me quite a few learnings. I'm an experienced digital marketer but one that has been laser focused on SEO which is where I have my expertise, with very little to no prior email marketing experience before I re-took what's now #SEOFOMO.
In this post, I'm going to share those learnings and do's and dont's that I expect to help those of you who want to start or are already going through this journey too. Something to note: I'm by no means an expert in this field (SEO consulting and building & growing Remoters are my day jobs) but I know that at least some of these will be useful and I'll be sharing the type of newsletter growth resource I wished to have when I was starting #SEOFOMO two years ago.
Here's a summary of the 15 (+Bonus) Newsletter Growth Tips:
Let's go through each point:
1. Create a Newsletter that Solves a Problem You Have and You Would Love (and Pay) to Receive and make its name descriptive
Before creating a newsletter account in one of the many email marketing platforms to choose from (from the revue, Substack, ConvertKit, to Mailchimp), ask yourself: What problem will you help to solve with it? Why should people subscribe to it?
As with any product, service or content, it should help your audience to solve an issue in a better way than other existing alternatives. The most critical the problem is for the target audience, the better. They will have a higher incentive to subscribe to your newsletter.
This should be also ideally a problem you have a genuine interest to solve, besides the means to do so. Like this, you won't only know the ins-and-outs related to it but get benefited by your own newsletter. This will also highly incentivize your work and help you to stay consistent with it (especially at the beginning, when you haven't yet created the habit to write it), which is key to establish trust with your audience, as they should be able to rely on your newsletter.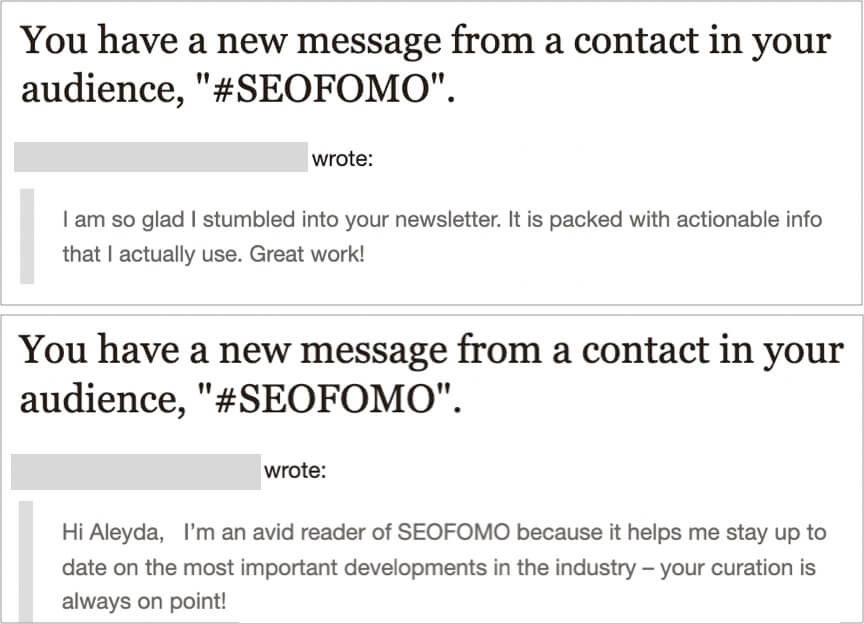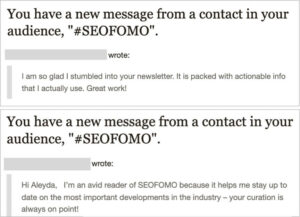 In the case of #SEOFOMO, the problem to solve was one I had as an SEO specialist and knew well most of SEOs also did: The ability to *easily keep up* with all that happens in an "always changing" industry: Search engines' updates, features releases, tools functionalities, new resources, guides, events, etc.
A "curated" newsletter written by an experienced SEO, highlighting the most important updates every week, including only quality resources, offered the perfect balance of "non-intrusive", easy to consume format, with the right frequency (not too often to become annoying or not too far in time to not be helpful anymore), that is consistently available right when most are starting the working week (I send it on Sundays evenings, every week).
Many ask me how I find the time to do #SEOFOMO and the answer is easy: It's something I (at least partially) need to do as an SEO anyway to keep up with the industry, it's part of my job, the difference is that I now share what I find to be really useful.
Once I established the newsletter goal, I "rebranded" it to be called something descriptive, short and easy to remember, not yet used in the sector for something similar. In this case, #SEOFOMO fulfilled all these criteria, as FOMO among SEOs was the problem to be solved. I added the hashtag at the start of the name since I'm active in twitter and I knew this would help to make resources related to the newsletter much more easily sharable and findable over there.
2. Ensure your Newsletter Quality Is High By Establishing Clear Criteria & easy to Follow System When Writing It
Design an easy to read, mobile friendly and accessible template you can reuse whenever you send the newsletter (so you don't need to start from scratch every time) while following best practices to avoid spam filters and maximize deliverability, establishing also an easy to follow system with clear criteria to write the newsletter, that facilitates your work, ensuring to deliver the promised solution every time.
I created a simple, text focused template that avoided the heavy use of images, and set a system to facilitate the identification of the most important SEO related news and resources from every week, so I don't need to look for them the day I write or send the newsletter from scratch.
The day I write/send the newsletter, I will have already a  list of "candidates" ready to include, that I have already been gathering through the week, making my work much more easily, to finally select those that comply with certain "editorial rules": The resources should be actually useful, comprehensive, shouldn't be misleading or completely self-serving, should be openly accessible for everybody, among others, that I also apply to potential sponsors when relevant. Whenever I'm in doubt, I will ask if the resource will actually help to solve the problem the newsletter is seeking to help with.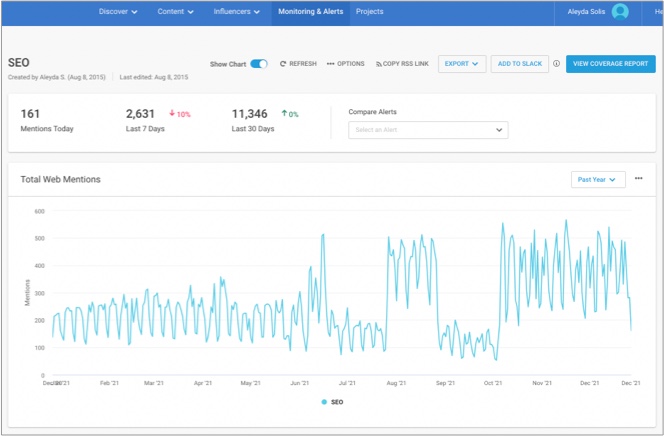 To save time, I set online alerts with Buzzsumo (you can also use the free Google Alerts) to automatically get and go through once per day the latest SEO related information that has at least gotten a certain number of social engagement. I also go through SparkToro Trending resources, top SEO related tweets once per day, and get recommendations via Twitter, LinkedIn and the newsletter itself (more on this later).
I build a list of the resources candidates that I select or receive and fulfill with the criteria in a Google Docs I have for this purpose, from where I will copy to include in the newsletter template I will reuse each week. An additional benefit of having a clear system for it, using a simple Web based tool like Google Docs for it, is that if at some point you have collaborators helping you with the newsletter (as I have now with Himani, who helps me with its edition), is that it will highly facilitate the collaboration too.
I can't highlight this point enough, since no matter the promotion you do, if you fail to deliver the "promise" you've done to your subscribers to solve certain problems they have, you're going to lose their trust and will end up losing them. Make something actually useful and comprehensive.
3. Create a Home for your Newsletter That Explains what It is and Facilitates Findability & Subscription
Make your newsletter findable by creating a home for it, somewhere you can easily link and refer to, that people will find when searching for "<newsletter name> + newsletter" and "<newsletter topic> + newsletter".
Start with a landing page within your existing site, and take this further by enabling a Website for your newsletter (where you can publish your newsletter editions too) using its name as domain name if possible.
Many newsletter platforms facilitate this, creating profiles and archives for your newsletter editions too, like Revue or Substack within their own platforms, or facilitate the development of a site with their own Web editors, like Mailchimp now does. Whether a landing page or your site, the goal is to facilitate visitors to find and subscribe to your newsletter, and to understand why it's valuable to do it so, clarifying any potential doubts.
In my case, the .com domain was not available (but it wasn't being used for anything) when I started #SEOFOMO, and since the name was so good, I ended up buying seofomo.co and used Mailchimp Website builder to set it.
Since the end of last year the .com domain is being used by an SEO tool called SEO FOMO. However, because it's a different type of product/site, and I've tried to do a good job optimizing the #SEOFOMO search presence, the #SEOFOMO newsletter site is ranking in top positions and there hasn't been any issue in terms of findability. Something funny: Even if sometimes people also mispronounce the name and call it "SEOMOFO", I tend to take the opportunity to use it for a fun joke (eg. #SEOFOMO aka #SEOMOFO).
A few must includes in your newsletter landing page/Website, to facilitate findability and incentivize subscription, besides embedding a subscription form:
Optimize metadata: Make the title, meta description, as well as twitter cards and open graph descriptive and attractive for "<newsletter name> + newsletter" and "<newsletter topic> + newsletter". Add a call to action in your meta description inviting users to subscribe, explaining why it's so valuable to do it so. Use this free metatags.io tool to optimize and preview them, while trying to keep them under the characters limit.
Describe the problem solved by the newsletter: Explain what's the benefit to subscribe to your newsletter, and how it's a solution for a problem the visitor has.
Describe (and show) how the newsletter solves the problem: List the different topics and sections featured in the newsletter, and link to previous editions so visitors can see for themselves what they can expect from it.
Explain why visitors should trust you with their emails: Introduce yourself as the newsletter author, explain why you can be trusted for it, describing how you will treat subscribers information, and how they can unsubscribe at any time they want.
Feature testimonials: When sending the first newsletter editions, ask for testimonials to readers (eg: Have you enjoyed the newsletter and want to be featured in the newsletter landing page/website? Reply with your Testimonial sharing why you like it!), and then feature them on the landing page/site, to show dubious potential visitors that is very worthy to subscribe.
Include FAQs to clarify most common doubts from potential subscribers:  How often will subscribers receive the newsletter? What time and day? Will the newsletter be always free? Do you accept adverts/sponsorships? Clarify in an FAQ and if you can, add the FAQPage structured data.
Describe the subscription process: Explain visitors the steps visitors will need to follow to effectively subscribe to the newsletter and what they can expect after they do it. For example: "Fill and submit the form below, you'll then receive an email where you'll need to confirm the subscription, you won't be subscribed until then. If you don't receive anything in your inbox, look for your spam, and add the email to your contacts so the newsletter arrives into your inbox. As soon you're subscribed you'll receive a Welcome email. You should expect a new newsletter edition every week on Sunday's evenings after that."
4. Leverage Automation Features to Better Engage with New Subscribers
Use your email marketing platform automation features to send automated emails based on your subscribers actions or preferences, for example, after a user subscribe to the newsletter you can send a welcome email linking to previous newsletters editions and top resources that had been shared via the newsletter so far, incentivizing early engagement with them.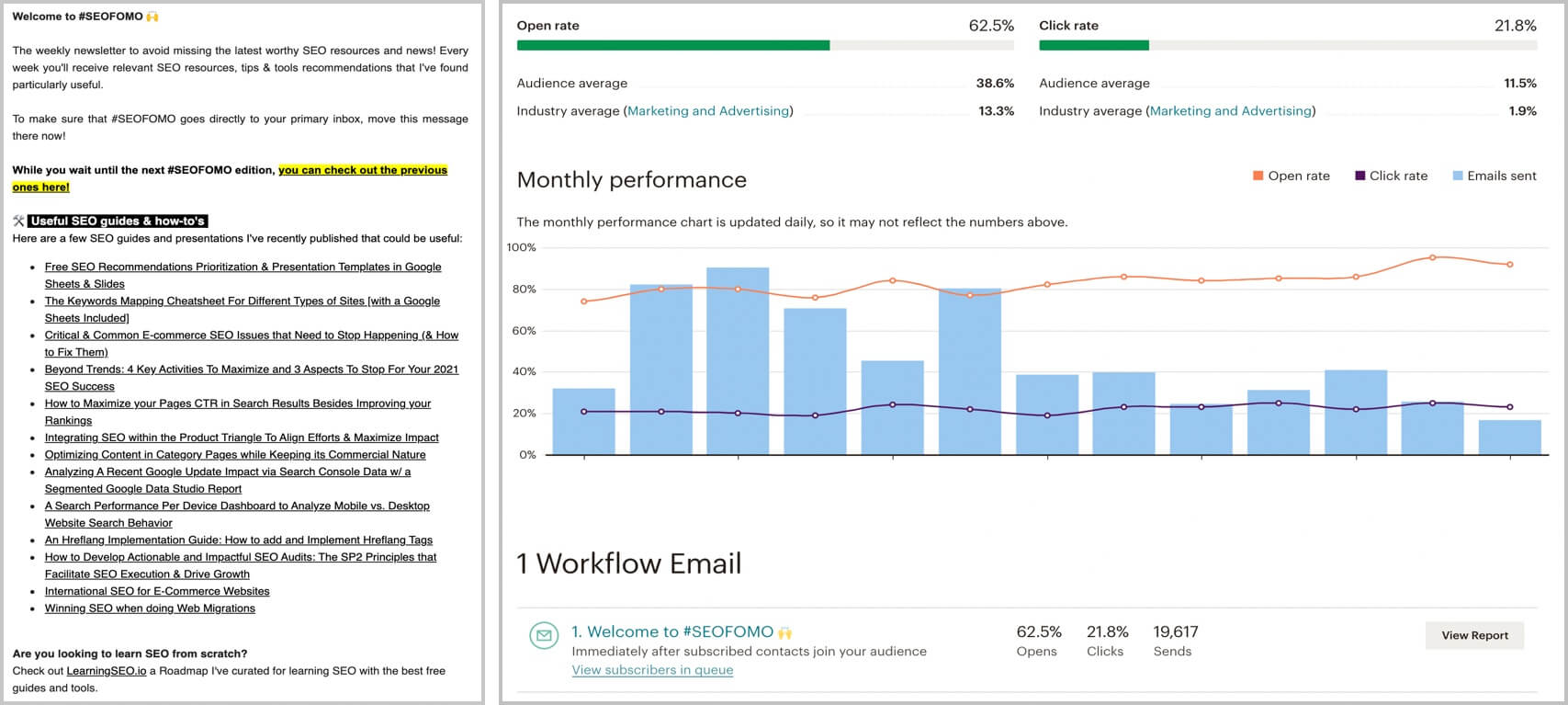 5. Don't Annoy your Subscribers Sending the Newsletter More than What They Had Initially Agreed To
Although yes, you want to leverage automation features, it's important to be careful to not annoy your subscribers by sending them more emails than what they had initially agreed to, unless these provide real additional value or benefit subscribers have opted-in to and will be happy to receive.
For example, a "welcome email" after they subscribe to the newsletter is definitely useful, as it is to send an email alerting subscribers when they have won a "reward" as a referrer, so they can claim it. However, re-sending the same newsletter after one or two days to those who haven't opened until then could be seen as annoying: If they didn't opened it in the first place, why do you send it again?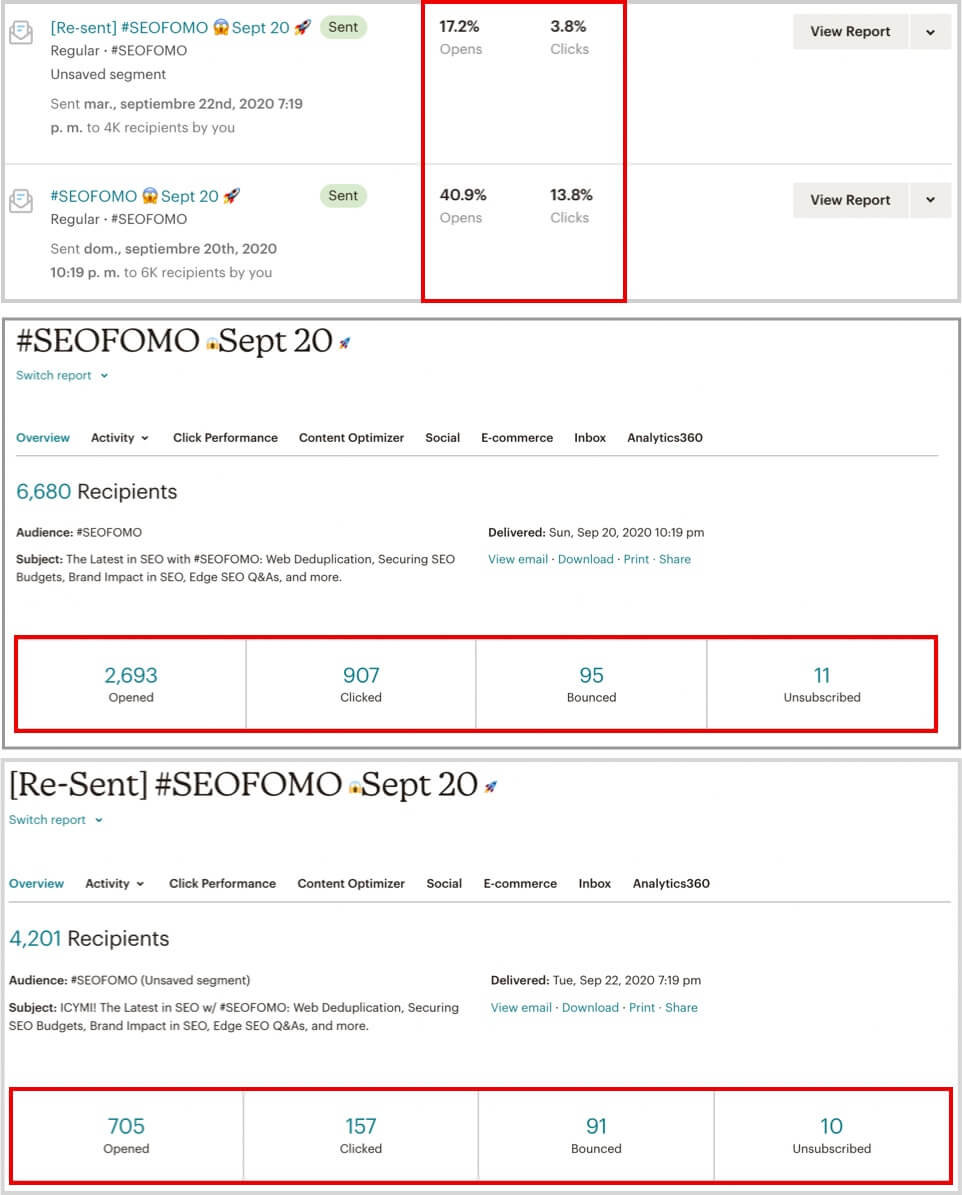 This "resend" feature to those that don't open the initial newsletter is a feature integrated in many platforms, and although you might want to test it with your audience, be careful with it, pay close attention to the results and act accordingly: More people might end up opening the email, but you might likely also see a higher share of people who unsubscribe when receiving those, and not for the right reasons, as it's ok to lose subscribers because they're not so interested anymore but not so much when it's because they find you to be annoying.
6. "Soft-Promote" The Newsletter: Refer to it from your Online Presence and Activity
Promote and refer to the newsletter from *all* your online presence, from your Website, or the usual blog posts pop-up suggestions (please, make them non-intrusive, without covering the whole screen and easily offering an option to close) inviting users to read more similar content by subscribing to your newsletter to third-party platforms where you have presence.
Mention the newsletter in your social profiles, email footer, podcast, YouTube channel, add it in the bio you send whenever you're invited to contribute to third party publications, are interviewed or participate at an event, etc. Make sure that whenever you're mentioned, you also include the newsletter with a link towards its landing page or site.
Also, if you want to leverage the newsletter subscription feature in your Twitter profile but you don't have a Revue based newsletter, you can also do it as Jens describe in this YouTube Video, using Zapier to connect and refer from Revue subscriptions to the one of your own Newsletter.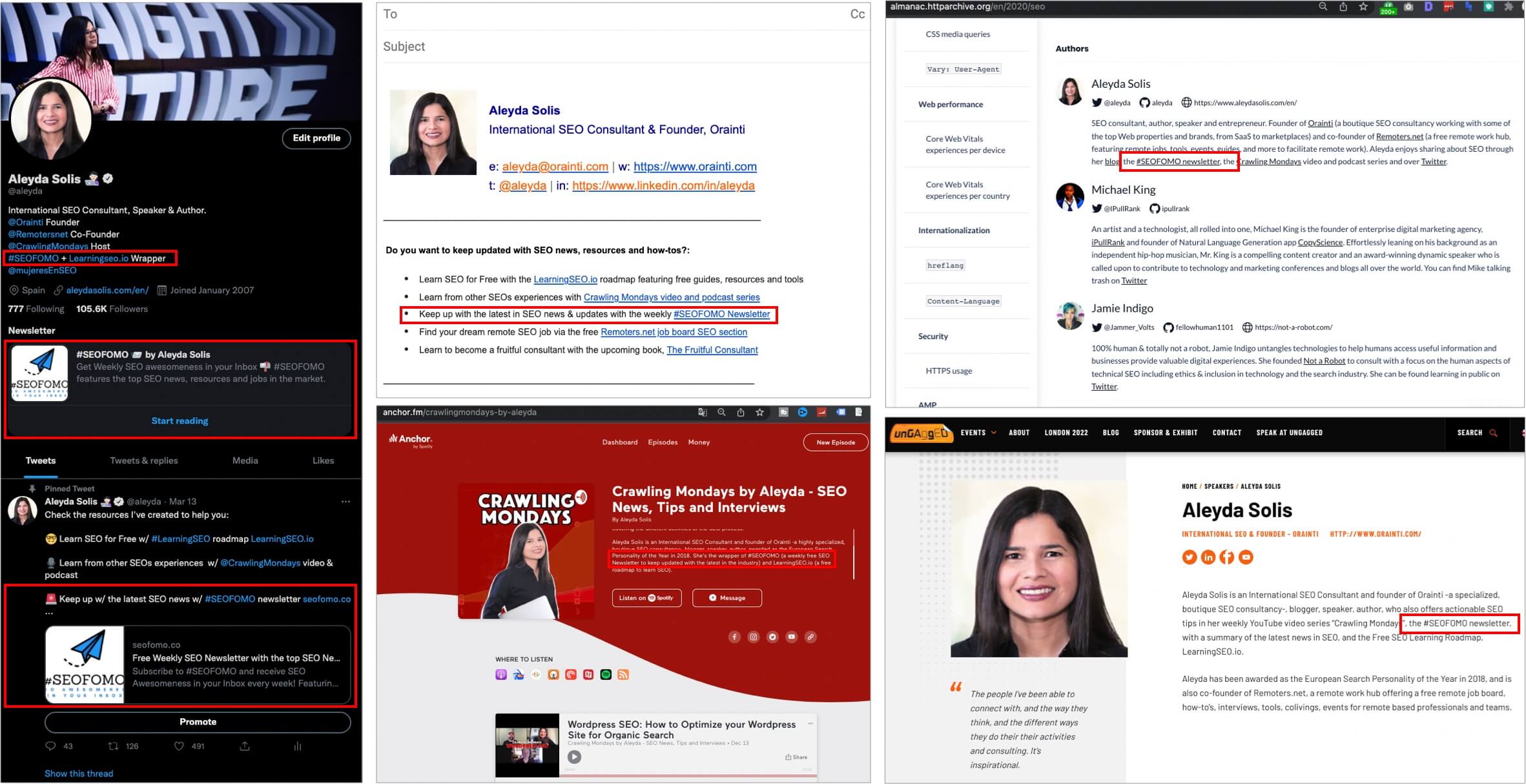 7. Actively promote, announce and share Insights from Each Newsletter Edition
Besides the soft-promotion, you should also actively promote the newsletter, in a natural, non-spammy way, through the different stages of its publication, including the subscription link (and brand with hashtag if possible):
When you're writing it/before sending: Share in your social media and groups that you're writing the next newsletter edition and highlight the most attractive topics you'll cover, inviting the audience to subscribe to see the awesomeness.
After sending: Share in your social media that you've sent the newsletter tagging the people who have been mentioned or endorsed in it, and/or the authors of the resources you've featured, they will likely amplify your share.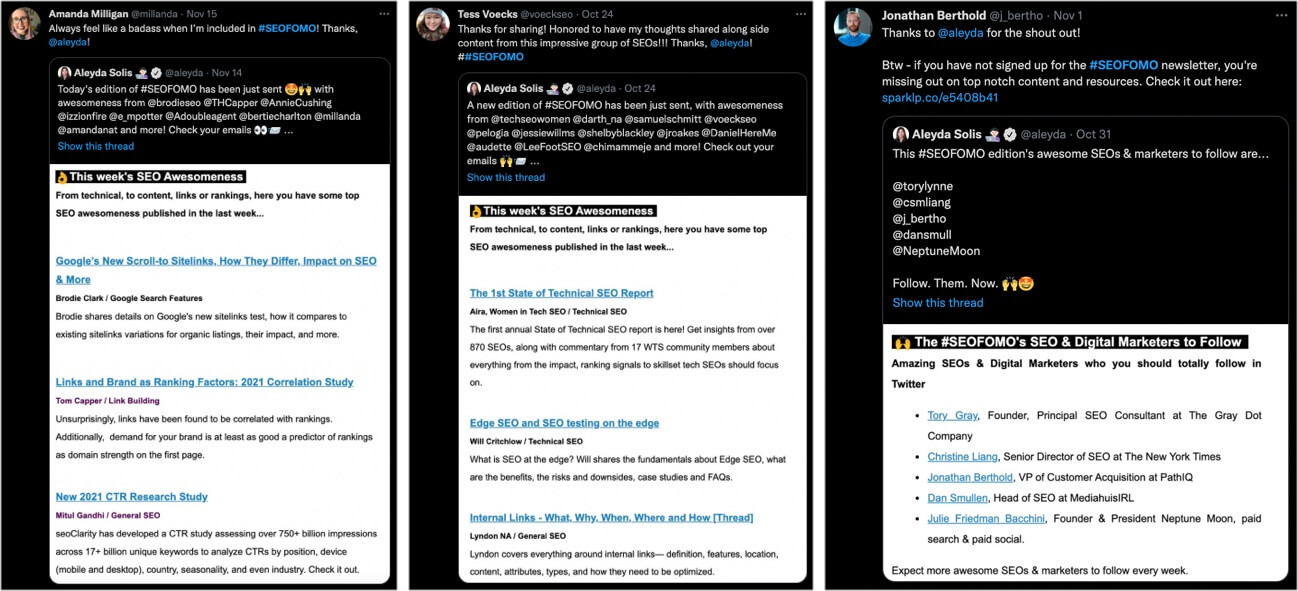 8. Cross-Promote and Refer from other Similar or Complementary Publications or Platforms
You can actively cross-promote across similar or complementary newsletters that you actually like and have a similar audience than yours, offering an exchange, eg: you refer me and I refer you. I've done this with Nick LeRoy that has #SEOForLunch, whose newsletter I've endorsed via #SEOFOMO (eg. "in case you want to diversify your SEO news sources beyond #SEOFOMO, here's an excellent option") and he has done the same too, as well as we spontaneously share each other newsletters via social.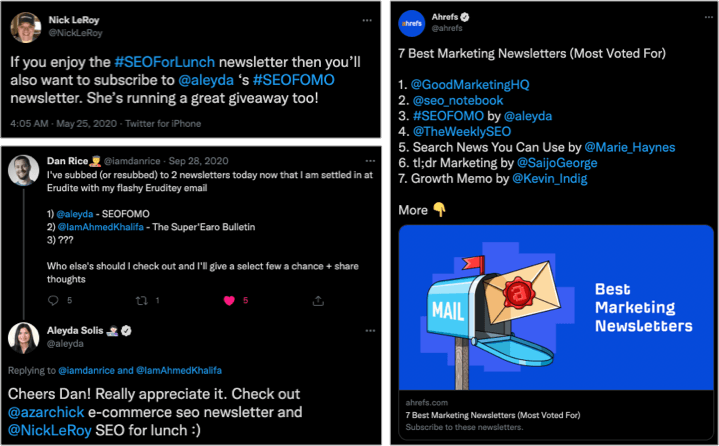 The "cross-promotion" can be also done at a more "passive" basis, for example, whenever someone ask for SEO or digital marketing newsletter input:
Instead of just recommending my own, I also recommend other newsletters I enjoy, besides #SEOforLunch, I also recommend Kristina's Ecommerce SEO newsletter, TL;DR Marketing or Women in Tech SEO newsletter which are amazing sources of information.
I RT/share the request so my audience (among whom there's a high share of #SEOFOMO subscribers) can share about #SEOFOMO instead, rather than me.
The key is to be genuinely useful while avoid being spammy when sharing about your newsletter.
9. Start a Newsletter Referral Program
17% of new #SEOFOMO subscribers in the last months have joined via the referral program. I see pretty much every day SEOs endorsing #SEOFOMO over social media with their referral link included. Running a newsletter referral program has been (along with giveaways) the best decision I've made not only to grow but also to engage with "power subscribers" (and develop a "community like" engagement) at an ongoing basis with a relatively "lower effort" and cost.
Since reading the success story from The Morning Brew and how they leveraged a referral program to grow the newsletter I wanted to test it out. The challenge was that I searched for a while and I wasn't able to find an easy to use, reasonably priced referral platform that would easily integrate with newsletters. Until I found SparkLoop.
Sparkloop is a very easy to use referral tool focused on newsletters growth, that literally takes you on the referral program creation journey step by step, offering all what you need to run a rewards program with minimum complexity:
Seamless integration with most popular newsletter platforms, referrals links and tracking, subscriber referral hubs, automated reward fulfilment, analytics, etc. all of this combined with an on-boarding checklist, taking you through each step while explaining it.
A wealth of resources, guides, checklist to learn about how to run a rewards program from scratch, for example:
An excellent support, not only within the app, where you can get in touch at any time and you'll get a fast response and help, but even outside too, their founders (Louis Nicholls and Manuel Frigerio) got in touch when I mentioned I was testing the tool at the time, and have always been there whenever I've mentioned SparkLoop.
I don't think I would have been able to run the #SEOFOMO referral program without SparkLoop, and is a service I'm happy to pay for and spontaneously endorse any time I can, as I'm doing here! (as an entrepreneur/founder myself, it's something I always do when I love a service, as I highly appreciate it when my customers/users do it with me too).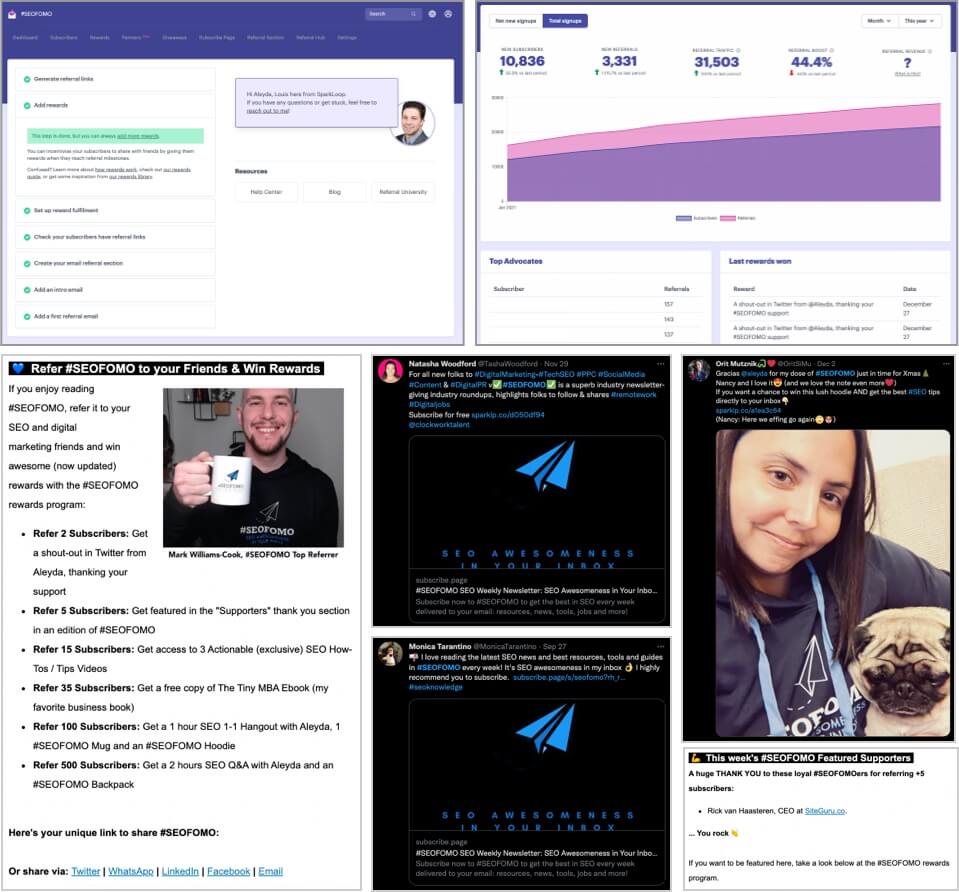 However, even with the help of SparkLoop features and resources, I have made some mistakes and have had to learn and refine some things along the way. For example, a couple of things I had to learn the hard way were:
Finding a "sweetspot" for rewards combination of cost, exclusivity and distribution easiness
At the beginning I sent a mug for those subscribers reaching the 35 referrals, a low-mid number that quite a few referrers reached. The cost of a mug is rather low and everybody likes to have a branded mug, so it's perfect, right? Not really.
You need to take into account the reward distribution that can easily become a pain! I'm based in Spain and sending mugs to other EU countries is rather easy and reasonably cheap, but sending a mug to South America, Australia or Asia, can easily become a challenge to do at scale, the cost is certainly higher if you want to send them through a reliable delivery service you can track to ensure deliverability, and the hassles with customs for which you need to fill forms and many times also pay extra, are not very uncommon. I might or might not have had to paid +60 Euros for a mug to be sent somewhere in Asia only to be returned as they were requesting around 12 Euros to the recipient (without even requesting this amount to me first), that they were not willing to pay.
So be wary of the cost and scale of distribution of otherwise "rather cheap and cool" items you'll give for low-mid number of referrals, as they can easily become rather expensive for what they are. Try to go for social "shout-outs", newsletter "thank you" section inclusion, and digital goods (ebooks, online courses, etc.) that are highly relevant and attractive to your audience, that you can easily distribute for low-mid number of referrals, and keep the physical products for higher ones.
Protecting against cheaters
Not many, but there have been a handful of people that I've caught trying to cheat by subscribing in mass, with fake accounts. It's important to keep an eye always open for those and configure your referral system accordingly, while adding disclaimers in the referral program description section within emails saying how you will only take into account real subscribers and that you keep the rights to not take referrals into consideration if they're suspected to be fraudulent.
Thankfully, SparkLoop has been adding more and more anti-fraud related features that allows users to configure criteria to block/reject referrals that follow certain fraudulent related pattern.
10. Run Newsletter Giveaways
Running newsletter giveaways are a fun way to increase newsletter referrals and engage with subscribers too, especially when trying to reach specific milestones. SparkLoop now also offers giveaway features, which has allowed me to run giveaways targeted to new subscribers and/or referrers very easily.
I ran the first giveaway at the end of May 2020, when I realized that unlike I had expected, I wasn't going to be able to reach the 5K followers by June as I had planned, so I needed to do something about it. I decided to run a giveaway that was going to be executed once the newsletter reached the 5K subscribers.
To organize it, I got in touch with a few SEO tools and course makers who I was in contact or were friends with, and launched "The #SEOFOMO5K Challenge", with a blog post on my site, describing the rewards, and how I would pick the lucky winner randomly from all #SEOFOMO subscribers once it reached the 5K subscribers goal. Right after I announced it more SEO tools wanted to be included and at the end, the giveaway ended up being of a huge SEO tools & learning package worth of US$21K for the lucky winner and anybody who was subscribed could also request a free Sistrix account during 2 months (priced at 800 Euros).
The giveaway was a success, as it highly accelerated the subscription growth, and by June 8 2020 the newsletter reached the 5K subscribers and the #SEOFOMO5K Challenge giveaway was closed. I then held and randomly selected the winner during a livestream… only for the winner to reject most of the prize (!).
This actually happened because the winner was a very honest person who told me how they were only interested in the learning resource, rather than the tools, as they were only starting in SEO and wouldn't make the most out of them yet. So I had to pick another winner for the tools, and learned a few lessons too.

Since that first giveaway I've ran a couple of others, taking into consideration the learnings that first giveaway taught me, that I would also recommend you to keep in mind:
Make sure to specify (and document) *all conditions* about the giveaway beforehand to avoid misunderstanding
When launching the giveaway clearly describe what's included in it, who can participate and who cannot, how to participate (the steps to follow), what would disqualify participants, what are the deadlines to participate, when and how the winner(s) will be chosen, how and when you will get in touch with winner(s), what will happen if the winner doesn't answer (and how long will you wait), what will happen if the winner has already access to the product/service they win (!), add disclosures about limitations of liabilities and how you reserve the right to do certain things, as well as how you follow GDPR/privacy laws in your country and how by participating, they agree with all of these and approve you disclosing their names as the winners in case they win.
Offer rewards that can be useful for all type of audiences and you can offer to a few winners, rather than a single one
For example, it's better to give 10 accesses to a tech SEO course and tool, than giving away 5 accesses to a tech SEO course, 10 accesses to a link building software, and 5 accesses to a rank tracker.
Although the monetary value of the latter package might be higher, and therefore, you might think it would be more appealing because of that, the reality is that the profiles of the audiences that will be interested in the accesses to the tech SEO course and tools, would likely not be necessarily as interested to access the link building software or rank tracker.
To avoid this, try to make the rewards as attractive as possible for any/all type of audiences your newsletter has. It's better to give many "homogenous" rewards to a few winners, than a mix of different rewards for a single winner, to maximize impact too.
If you can't, think of one of your most popular type of audiences (eg. technical SEOs), to make sure the rewards are at least very attractive for *those* type of participants. It's better to offer something very attractive for an important subset of the audience (who will engage and participate willingly) than something somewhat attractive for all (who won't engage as much, and might participate but won't appreciate it as they should).
Like this you'll avoid the scenario of giving something that won't be necessarily as attractive or useful for those participating and even end up being rejected by the winner because of that.
Protecting against cheaters, again
Similar to what happens with referral programs, in this case there will be those few who will want to manipulate the system in place to increase their chances to win in the giveaway. Make sure to keep an eye open for multiple entries of the same person (and add disclaimers saying that you will disqualify those). The identification of these issues is again highly facilitated now by using SparkLoop giveaway features.
11. Repurpose & Reformat The Newsletter Content for Wider Reach: Twitter Chats, Blog posts, etc.
Why not leveraging the newsletter related information to reach a wider audience, get more visibility and potentially, even more subscribers? This is easier than before with platforms like Revue and Substack that automatically generate a post with your newsletter, that you can independently share and promote via your social channels and groups.
Additionally, you can leverage the newsletter shared information to organize text or voice chats. I started the #SEOFOMO Chats when I got access to Clubhouse at the start of the year, and invited SEO friends and colleagues to co-host with me, going through the most clicked resources from each week, analyzing, and sharing our thoughts about them.
After Twitter Spaces was released, I didn't think twice and moved the chat over there, as I had a much higher following there (I have at the moment 105K Followers) and it was going to be accessible to many more who couldn't access Clubhouse at the time that was only iOS based.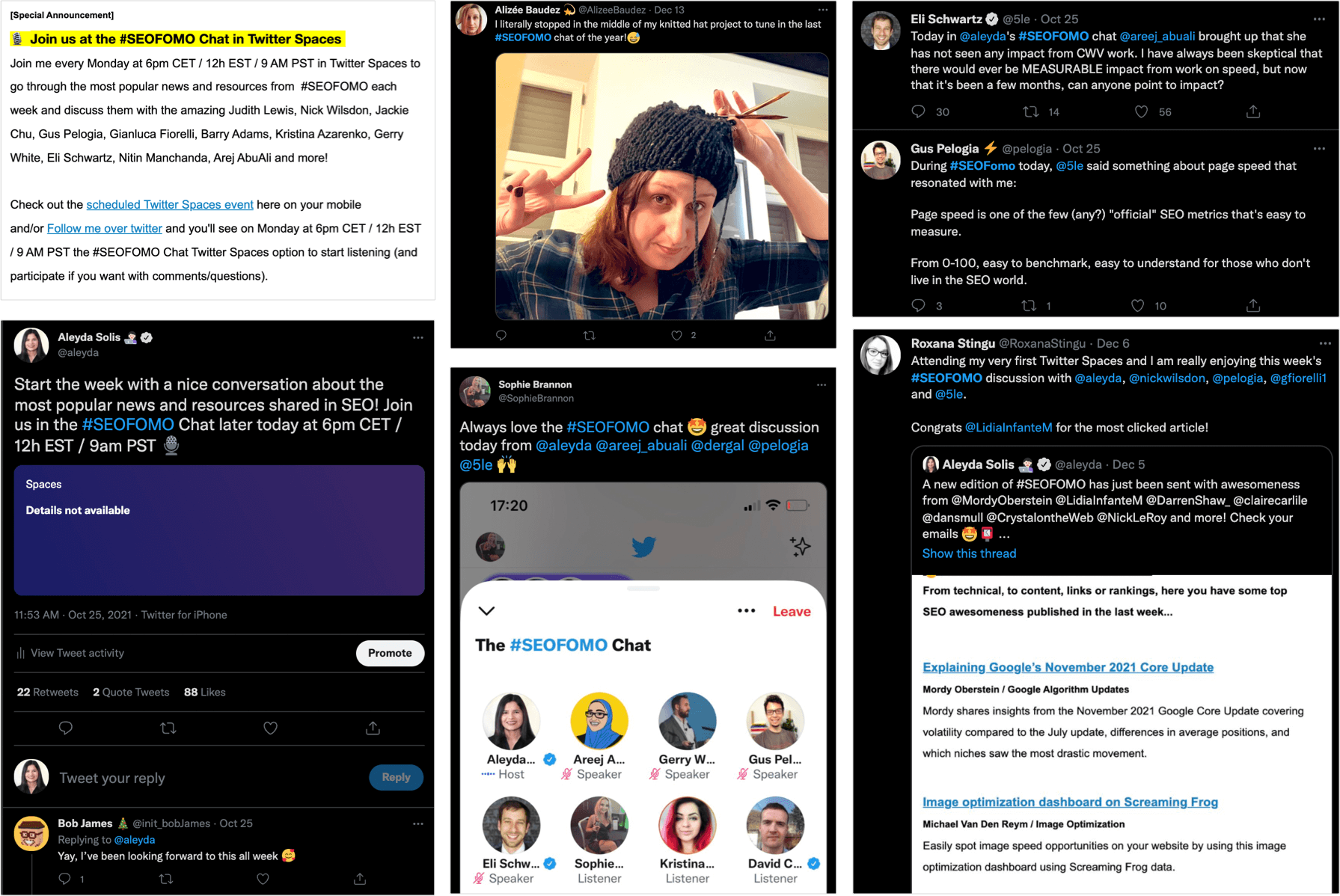 I've been running the #SEOFOMO Chats in Twitter Spaces since then on Mondays at 6pm CET, and it has helped to grow the "community" side of the newsletter in Twitter, with an average of +60 listeners per edition, it gives #SEOFOMO extra visibility in Twitter, even among those who aren't subscribed and end up realizing about it after attending the chats, incentivizing them to do so. If you decide to give it a go, make sure to:
Create, announce and link to the Twitter Chat from a dedicated Newsletter section, sharing the time across different timezones.
Invite other colleagues with different types of expertise to co-host the chat with you, this will help to also get a wider reach of participants, as they will likely share about the chat among their own followers too.
Announce and promote, while sharing the link to the twitter chat and its hashtag, before it takes place in Twitter and LinkedIn, tagging those that will co-host with you, and highlighting some of the topics to be covered.
12. Engage with your Audience and Ask them for Feedback, Input or Participation
Include a feedback section in your newsletter, explaining to your subscribers that you're open for their input: information to include in the newsletter, new sections or topics ideas, etc. and that they just need to "reply" to the newsletter to send that feedback to you.
This can not only save you a lot of your time, as you'll directly receive interesting resources to include without having to look for them every week, but also ideas of things to improve/change in the newsletter.
I frequently get feedback from #SEOFOMO subscribers about:
Guides, resources, tools, jobs, SEOs to follow recommendations to include in the newsletter next week
Ideas of new topics/areas to cover with the newsletter
Display/design issues that need to be addressed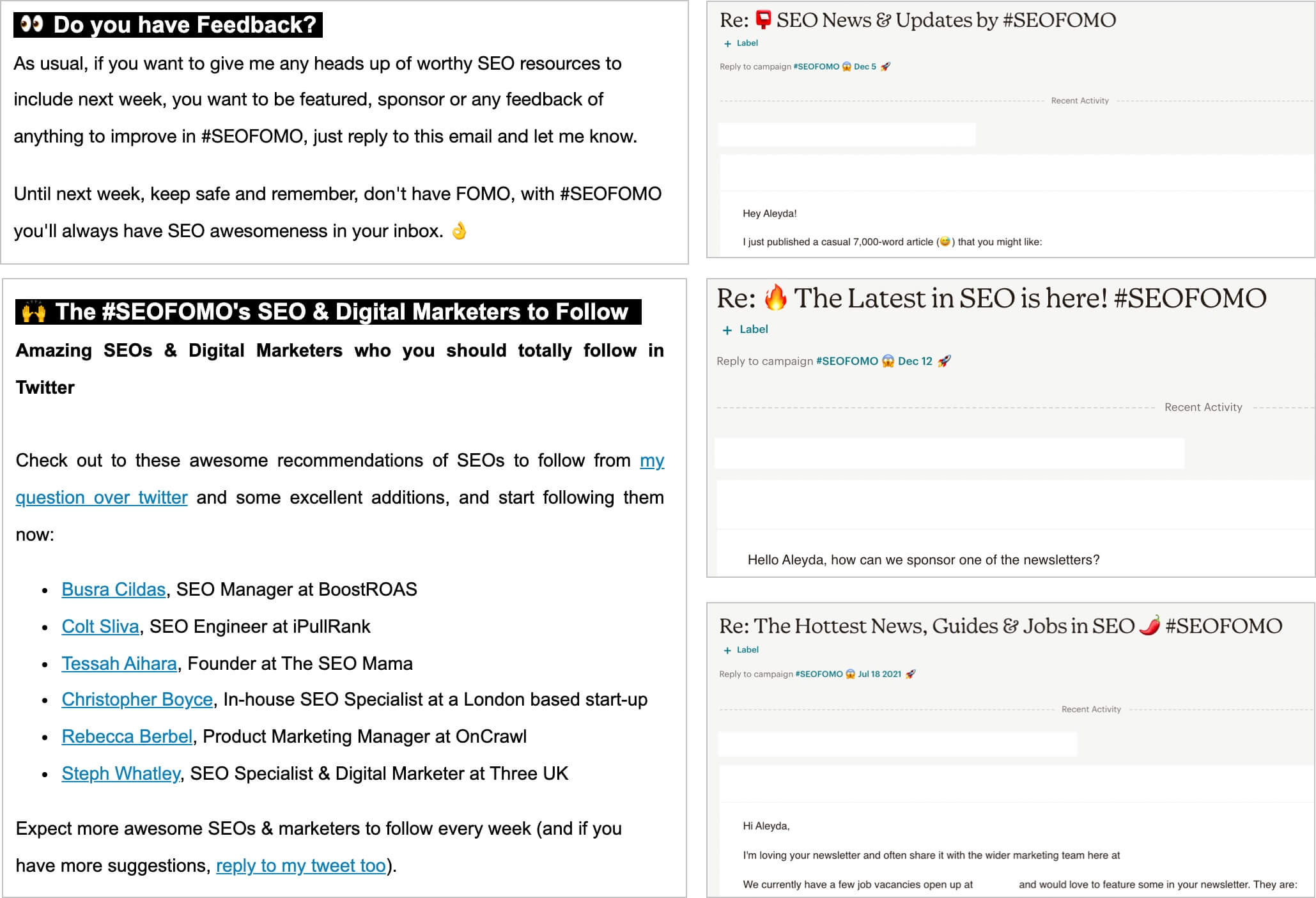 Something that I do often now is to also request feedback over Twitter for #SEOFOMO information: People to follow, resources to add, etc. This also allows to keep the newsletter visibility active in social, soft-promoting it.
13. Don't be afraid to Test To Expand The Newsletter to Feature More Useful Related Information & Topics
Your newsletter is meant to be refined and expand to better fulfill your audience interest that is always evolving, and keep its relevance and competitiveness through time. Use the feedback from subscribers, test new/different areas or topics, and design/organization.
When I started #SEOFOMO it included 3 different sections:
An SEO guides/news section
An SEO resources/tools section
A non-SEO guides/resources section
Here's how it looked like: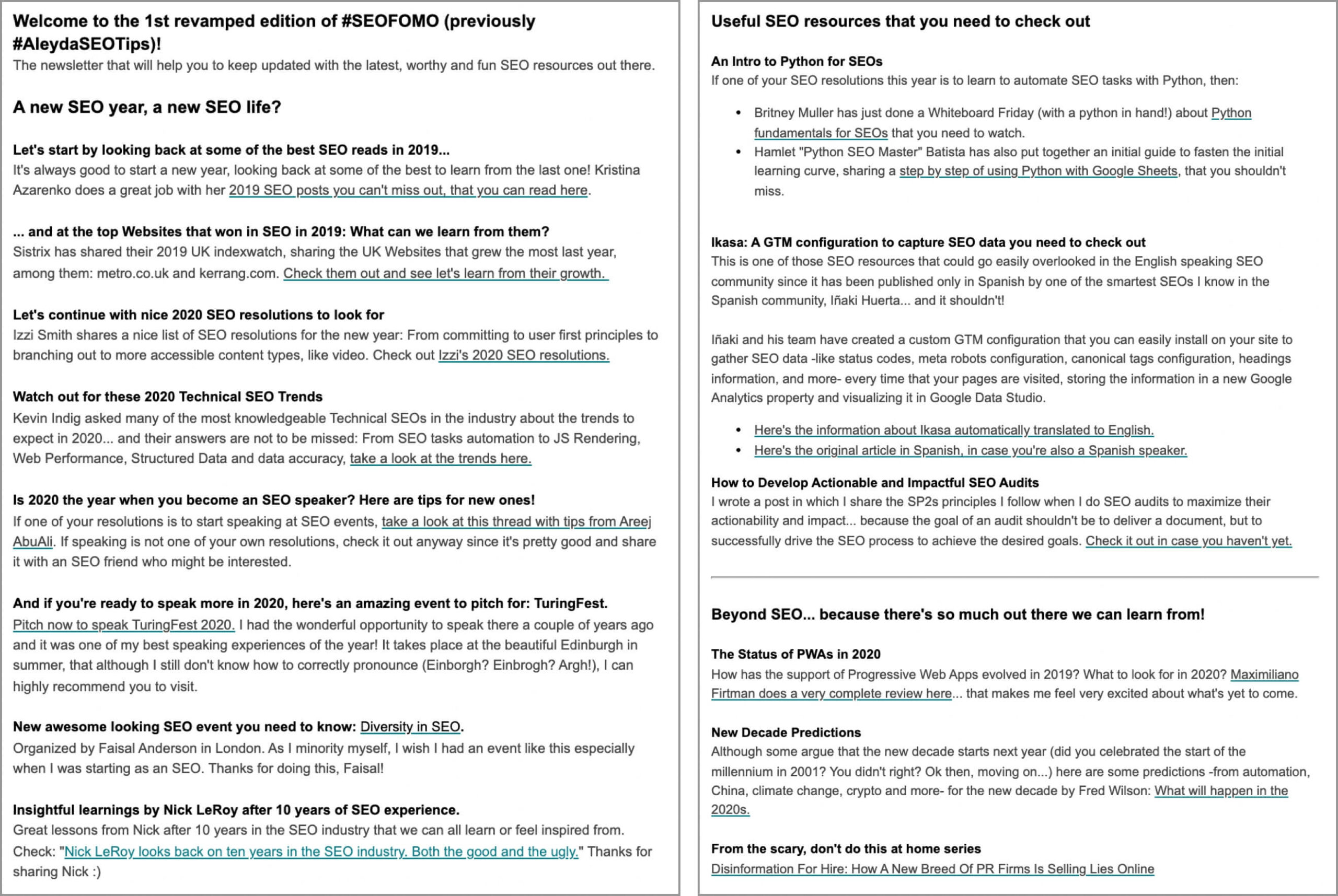 Since sending the first editions I started to ask subscribers for feedback to improve the newsletter look and feel and organization to make it easier to read, as well as other relevant topics that would be also useful for the audience to get. I started to test/expand/refine the newsletter by taking their feedback into consideration and assessing how it performed afterwards in terms of engagement and further feedback.
Now #SEOFOMO features the following sections:
Search Updates & News from Search Engines
Top SEO guides/resources
Remote SEO / Digital Marketing Jobs
SEOs & Digital Marketers to Follow
Free SEO Tools
Interesting Non-SEO Focused Guides/News
As you can see below, these different sections are also now much better differentiated, the fonts are bigger, the links consistently placed in headings, author and type of resource included below each heading, bigger spaces are left between each resource too. All these have been updates made taking subscribers feedback into consideration to improve their experience with the newsletter.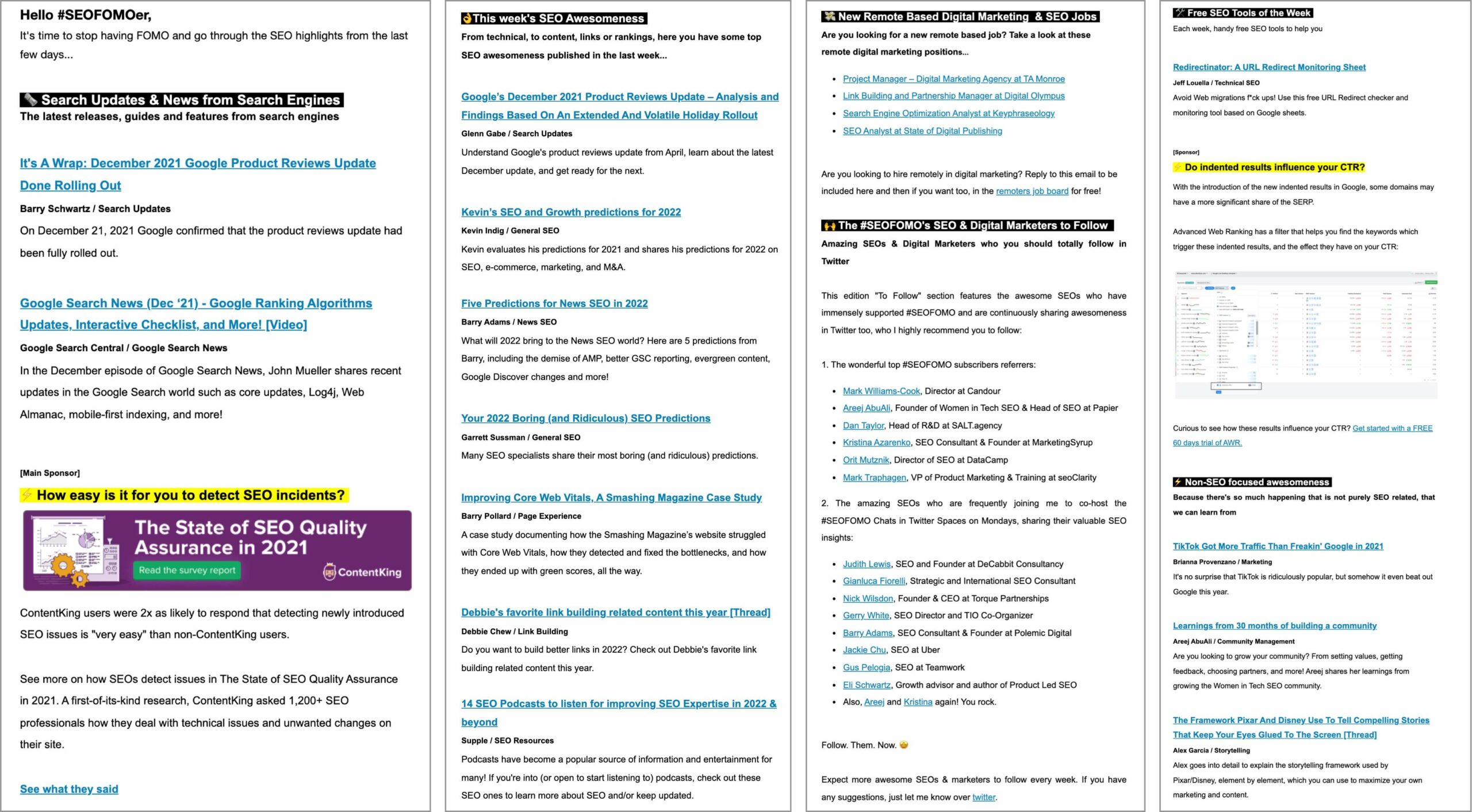 Don't be afraid to tweak or expand the newsletter, just make sure that what you do is aligned with its established goals and criteria, and to take into consideration the next suggestion to run tests before making a definitive decision.
14. Run A/B Tests to identify better performing Subject lines, Content Organization, Send Times, etc.
Follow a proper methodology to expand/optimize your newsletter. Develop hypothesis and run A/B tests, using your subscribers feedback as well as own ideas. Newsletter software like Mailchimp, offer A/B test features to easily test subject lines, content or send times; to facilitate you to measure if those tweaks you thought would improve the newsletter open rate or engagement, are actually positive… or not so much.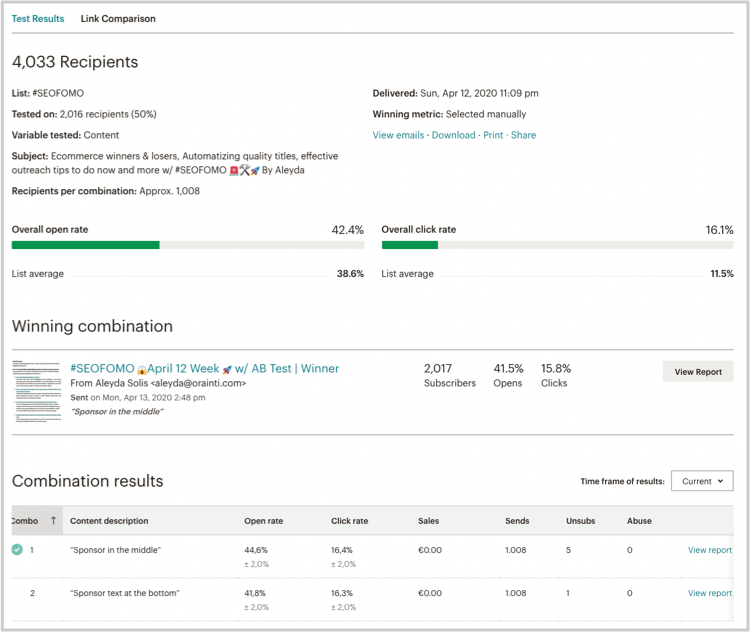 15. Measure How your Audience Clicks and optimize accordingly
You can't improve what you don't measure. This is true not only when you're actively testing things. In fact, many of your tests ideas will come from analyzing your newsletter performance in the first place.
Revise your newsletter analytics after each time you send it, compare open rate and click behavior with previous editions, analyze what topics drive a higher engagement, develop hypotheses of things that have an influence the performance and you want to test.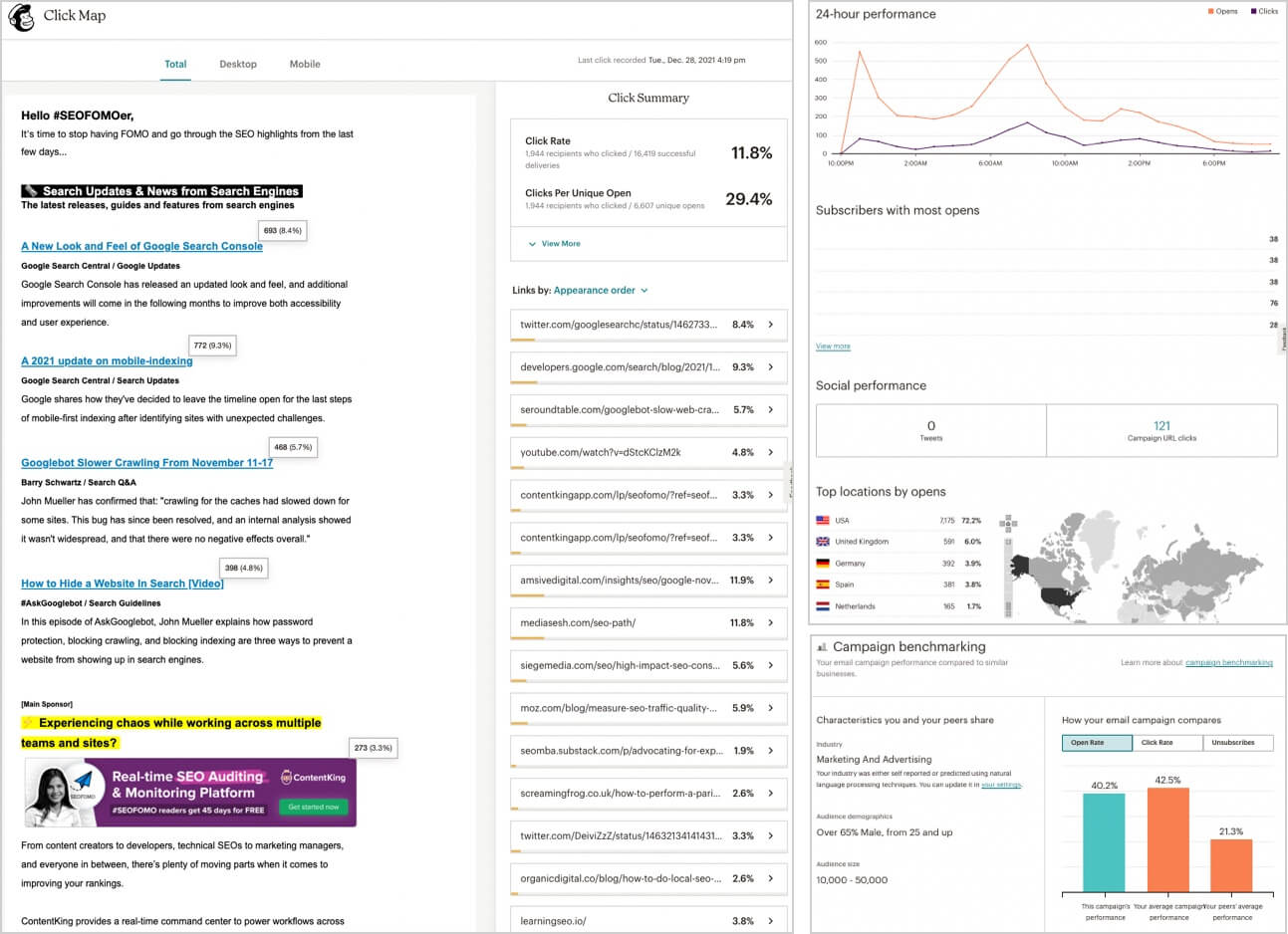 Bonus: Clean up your subscribers list for a high quality, highly engaged audience and better newsletter deliverability
Last but not least, remember that it's not only the number of subscribers that matter, but those that actually open and click on the information you send. The quality of your subscribers list doesn't only impact your newsletter engagement, but also, its deliverability.

This is why it's recommended to clean from your list those emails that consistently bounced, which is something Mailchimp and other newsletter software do automatically. Additionally, you might want to ask those who haven't opened the newsletter at all since a while, if they want to keep listed, and if not, to eliminate them.
Wrapping Up!
I hope you've learned a thing or two from my journey with #SEOFOMO, and inspired you to try a few extra things with yours. If you have any recommendations that you've found useful when writing your own newsletter that you haven't seen here, please feel free to leave them in the comments, I'm always open to test and refine … it's the way to grow 🙂
I want to also take the opportunity to thank to all of those who have subscribed, and consistently refer #SEOFOMO, as well as those who join me to co-host the #SEOFOMO chat each week, and sponsored the newsletter: You're amazing, and none of this would be possible without you! Also, thanks to the amazing Adam Riemer for his valuable newsletter feedback and advice with #SEOFOMO.
PS: If you're an SEO who haven't yet subscribed to #SEOFOMO or know of an SEO friend who might not have heard of it yet, what are you waiting for? Subscribe or share now: https://www.seofomo.co/ and get ready to receive the most important SEO resources and news you need to stay in top of things, once every week!
Check out these similar articles