Free SEO Recommendations Prioritization & Presentation Templates in Google Sheets & Slides
Today I would like to share with you a couple of templates, one in Google sheets to help you to easily prioritize your SEO recommendations based on their level of effort and impact, and another to help you to better communicate and earn understanding and support for them, with an SEO recommendations presentation template in Google Slides.
There are many great SEO audits checklists templates, in fact, yesterday I created a new section in LearningSEO.io for handy SEO audits templates within the "free tools" section, which I recommend you to check out.
However, these SEO checklists tend to be issues oriented and although they're amazing to avoid forgetting something important to assess in your SEO audits/analysis, these are not meant to be documents to be delivered to clients (or stakeholders involved in the implementation), as it will be harder for them to understand and use towards implementation, which is one of the biggest causes of SEO Failure.
To facilitate understanding, actionability and maximize impact, as well as to help obtaining the relevant resources and support, it's critical to:
Be solutions oriented: Clearly tie any identify SEO issue/opportunity with a specific action/recommendation to execute, showing how it will support to achieve the established SEO goals.
Establish scope: Specify the area / pages types for the scope of the implementation as well as the type of resources expected to be needed for the execution. Although it's the stakeholders the ones that will ultimately assess the level of resources needed, it's useful to define what type of them and the scope of the implementation for them to assess.
Define priorities: To prioritize the execution of the SEO recommendations of those that are expected to have a higher impact and lower effort, and completely remove those that will have low impact, and high effort.
An SEO Recommendations Prioritization Template in Google Sheets
To help you easily establish this, I've created and I'm sharing an SEO Recommendations Prioritization Template that you can access here (to copy, please don't request access, instead go to "file" and "make a copy" option).

In the sheets you'll see how in the first row I add comments to describe how you can fill each field, which as you can see, are solutions oriented: to define SEO recommendations to address the identified SEO issues and opportunities connecting them to goals to achieve and tying them with type of resources, affected areas, specifying their impact and effort, which will ultimately help to prioritize them, to start those with the highest ratings (which will be obtained by those with the highest impact and lowest effort).
An SEO Recommendations Presentation Google Slides Template
After you specify and prioritize the SEO recommendations, it's time to share them with your clients / involved stakeholders for their implementations.
To do that I've also created a Google Slides template that will use the Google Sheets as an input, and will help you to clearly described the prioritized SEO recommendations to facilitate their implementation:
Showing a prioritized SEO recommendations summary at the start (imported from the Google Sheets)
Describing for each prioritized SEO recommendation: Why is it important and how it will affect to achieve goals, where the issue/opportunity has been found and how it's generated, as well as how it can be fixed/leveraged with specific examples.
Copy the SEO recommendations presentation Template in Google Slides by accessing here, by going to "File > Make a Copy".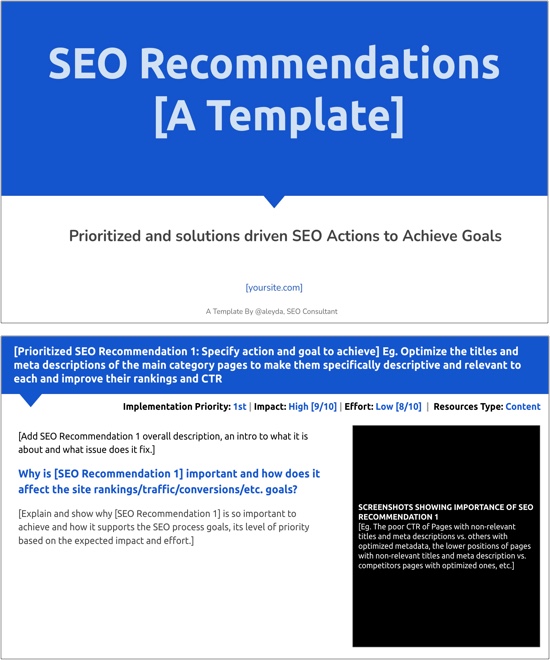 I hope that the SEO recommendations prioritization sheet and the presentation templates serve to "complement" the checklists in your SEO audits, and help you to better prioritize and communicate them to maximize results and actionability.