Join +4,000 SEO specialists and digital marketers & subscribe to receive every week an email with the most important SEO news and the best SEO resources, tips & tools that I've found particularly useful, in the revamped #SEOFOMO newsletter.
Don't believe me? Take a look at what SEOs say about it:
#SEOFOMO is one of the main sources of SEO information and resources for SEOs to keep updated.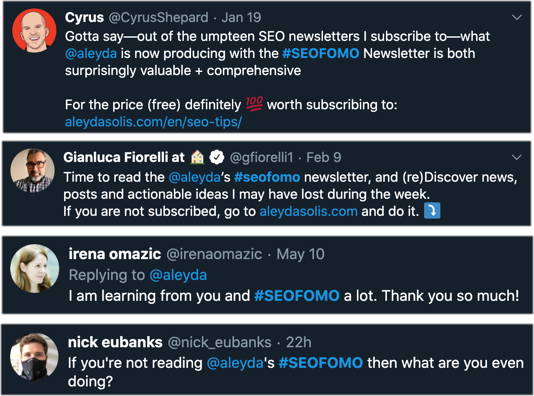 Subscribe now to #SEOFOMO and participate in the #SEOFOMO5K challenge
To thank #SEOFOMO's newsletter subscribers as well as to incentivize more SEOs & digital marketers to join, on May 23 I launched here the #SEOFOMO5K Challenge Giveaway!
What's the #SEOFOMO5K Challenge? When the #SEOFOMO newsletter reaches the 5,000 subscribers, the following will happen:
With the sponsorship of Sistrix, I'm going to give to any of the 5,000 #SEOFOMO subscribers who request it, a new free Sistrix account w/ 6 Modules for 2 months, which is priced at 800 Euros.
I'm going to do a giveaway among the first #SEOFOMO 5,000 subscribers who want to win a BIG SEO Tools & Resources Package Prize with a worth of US$ 21,338.38*.
To participate you just need to: Subscribe to the #SEOFOMO newsletter below and then, starting with the newsletter edition of May 24 2020, a link will be included in the newsletter so any subscriber who receive it can register to the #SEOFOMO5K challenge.
Subscribe now to #SEOFOMO here:
Receive top SEO insights every week by subscribing here to #SEOFOMO (rest assure your email won't be used for anything else than receiving amazingly good SEO resources):
Share about #SEOFOMO to your friends or colleagues
If you want your colleagues and friends to be also updated with the best latest news and SEO resources, and to reach the 5,000 subscribers soon, share about #SEOFOMO with them: