Remembering a big year #thankyou2012 #welcome2013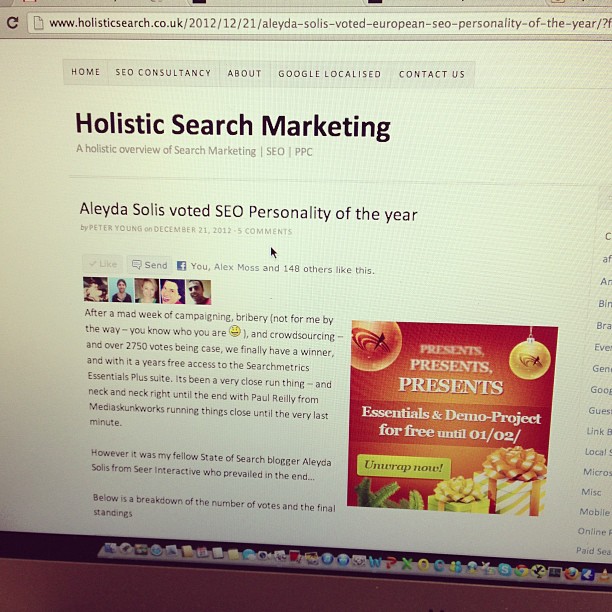 2012 has been a year full of adventures and experiences at a professional and personal level. I'm thankful to have had the opportunity to share, enjoy, help, learn from among others, the following moments:
I finished a professional phase
In which I had the opportunity to contribute:
And also learn and laugh a lot with colleagues from a totally different culture but who were as geek as I was:
To start a new challenge
I became a member of the only church I could be:
The #SearchChurch with SEER Interactive 🙂 Where I'm part of a great team with excellent professionals and people with multiple skills, beyond SEO:
I spoke at national and international professional events
As MozCon:
Or BrightonSEO:
Or SMX London:
Or Congreso Web:
Where I've had the opportunity to meet amazing professionals and great people.
I wrote for specialized publications
As .Net Magazine:

I organized with great colleagues a free local event in Madrid
Let's go for more SEO+You:

I visited new places and got to know more cultures
I went to Moscow:

To Montenegro:

To Brighton:
To Filadelfia:
To Seattle:
I came back to important places for me
To Salamanca, the town where I lived, studied, worked for 4 years, where I started to do SEO and fell in love. It's easy to understand the magic of Salamanca when you see the main entrance of the university:
And its main square, the most beautiful in the world:
Or its Cathedral:
That leave you without words.
And went to my country
To be with the people I love the most:
Besides family and friends, I enjoyed of the amazing beaches of the Nicaraguan Pacific coast:
Where I lived multiple emotions:
And tasted its amazing flavors:
I shared with friends
In different moments, as my birthday:
Or celebrations:
I got their support when I needed it:
Thank you guys 🙂
I learned new things
To use new tools:
Or communicate in new languages:
I exercised more
Swimming proved to be amazing to get fresh ideas too:
And lived beautiful personal moments
With Javier:
And Doki Bulldog:
Enjoying of good music
I went to the Coldplay concert in Madrid:
or new gadgets
and amazing views
Like in Switzerland:
I supported principles that I believe in
Going and enjoying the celebrations of the Gay pride parada in Madrid:
and celebrated the success of the teams I support
Amazing Barça:
Amazing Spain:

2012 also left me lessons
And a great end of the year
That without your support wouldn't have been possible, winning as SEO personality in Europe 2012:

Especially the great SEO community in Spain, the Madrid Geek Girls, my co-workers at SEER Interactive, my twitter followers and friends.
Thank you for 2012 and welcome 2013
This year I want to help more in those initiatives that I believe in, contribute to the success of more clients and develop some projects in stand-by, visit and learn from new places and situations, exercise more to stay healthy, share more with the ones I love, … among others.
And if bad moments come? I have the solution here:

Let's go 🙂 #Thankyou2012, #Welcome2013.
This post is also available in: Spanish