#SEOhorrorStories – Celebrating Halloween in the best SEO Style
Update on November 3: Both Search Engine Land and Marketing Land have also published posts about #SEOhorrorStories. Thank you! 
---
On Friday October 29 (almost at the end of my day) I started to share a few "SEO horror stories" in Twitter as a way to celebrate Halloween SEO style, probably the best time to share, get scared, laugh or cry about those small or big anecdotes that make SEO sometimes a challenging (although highly fulfilling) journey -dealing with developers, designers, project managers, business owners et al-.
Here's the first tweet:
When all internal pages of the site were canonicalized to the home page #seohorrorstories

— Aleyda Solis (@aleyda) octubre 30, 2015
And the second one:
When someone forgot to block the site test environment… that started to be indexed #seohorrorstories — Aleyda Solis (@aleyda) octubre 30, 2015
Then I started to get responses to my tweets: 
@aleyda Had once a client with 'under embargo' meta descriptions… they pushed live. Made the news 🙂 (not current client btw)

— Kevin Ellen (@Kevin_Ellen_) octubre 30, 2015
At this point I realized that it might be an amazing opportunity to invite everybody to share their own anecdotes:
SEOs: Share your #seohorrorstories … Because Halloween is a good time to laugh (or cry) about them 🙂 — Aleyda Solis (@aleyda) octubre 30, 2015
Good thing I decided to do it, as it quickly started to get the contributions of hundreds of SEOs! According to Follow The Hashtag 811 of contributors (SEOs FTW) shared in total 1,668 tweets that continue to be shared until now, from all over the world: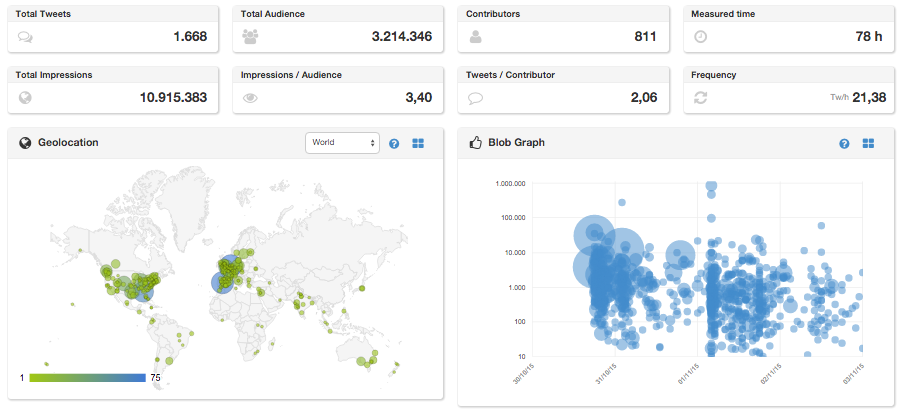 The hashtag even started to trend in Twitter (thanks to Martin MacDonald for the screenshot):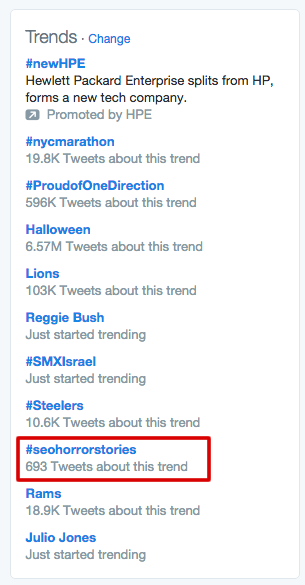 Some of the top tweets where shared by high profile contributors, such as the Google Analytics account that got 157 retweets:
Or Matt Cutts who shared his own:
Here's the list of the top tweets & users that also includes Alain Bleiweiss, Kristine Schachinger, Tony Dimmock, David Iwanow, Dana DiTomaso, Ryan Jones, Dave Roher and David Wallace, among many others who rocked their #SEOhorrorStories tweets: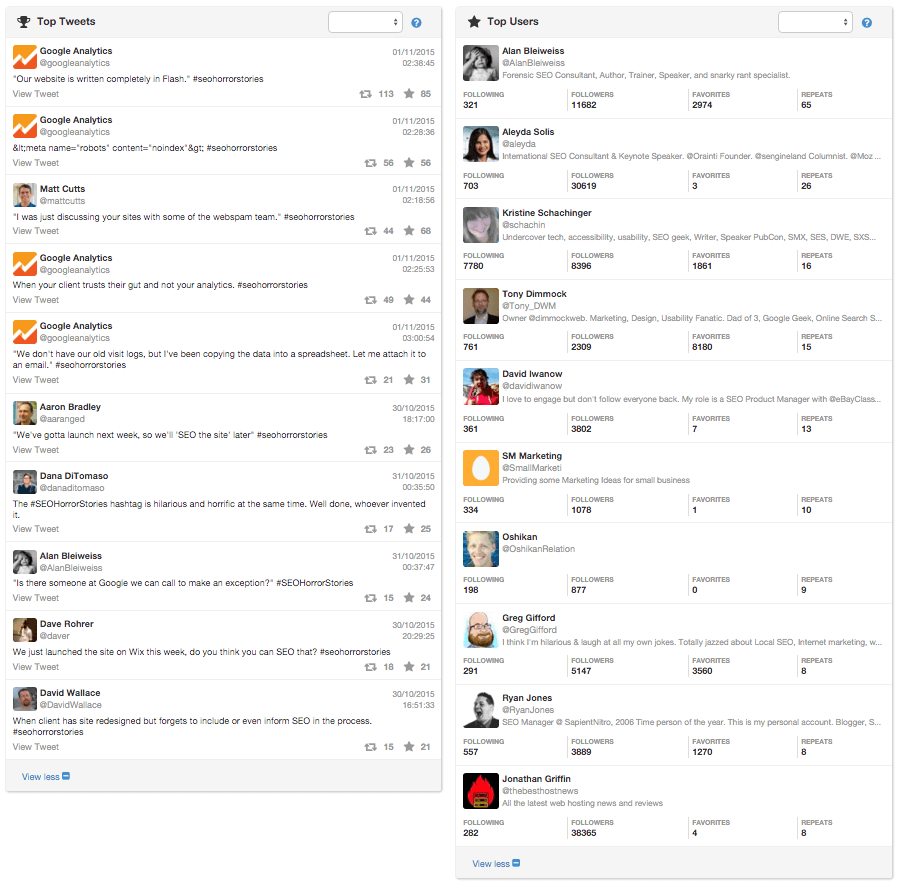 Besides the evident humor connotation of #SEOhorrorStories it has been incredible way to see how many of us independently of where we are, languages, the type of clients or role we have, in-house or client side, the sector we work in, share so many of the same SEO challenges and day-to-day situations and realize how sometimes things don't happen because of how we necessarily deal directly with the projects ourselves, but also because of the nature of SEO… everywhere 🙂
Besides English, I spotted tweets in Spanish, French and German, as also twitter users and even blogs in these languages started to cover it: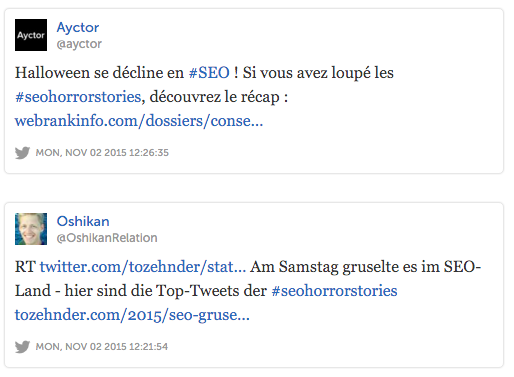 Because of all this I started an @SEOhorrorStory twitter account, so we can have a way to share our SEO challenges (aka, horror stories) … and on a daily basis, not only in halloween to scare each other! Stay tuned for its updates.
Thanks to the amazing SEO community for such a fun moment! Here's the timeline of the tweets in case you have a few minutes to spare -or the whole afternoon to procrastinate ;)-, and want to have few laughs… or who knows, maybe to share it with your co-workers or clients? Let's have fun with our #SEOhorrorStories!