Attending & Speaking about SEO Project Management at Mozcon 2012
Last week I had the amazing experience to attend to MozCon and speak about SEO Project Management sharing stage with some of the best SEOs in the industry, which was a real honor.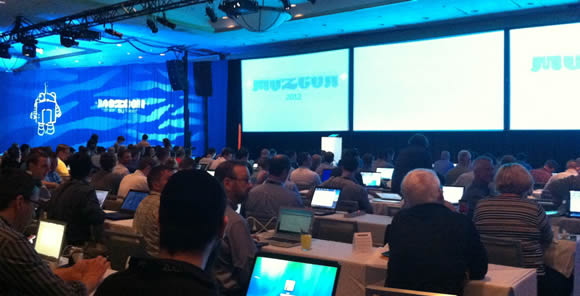 Sessions are MozCon were highly interesting, very actionable, with a depth of information not common in conferences from a high diversity of topics, from link building to design, social and even research -with the launch of Mozcast, an indicator of Google's algorithm updates-. To see what I talk about you definitely need to take a look at all of the presentation slides here.

Thanks to Rudy Lopez for the amazing photos at Mozcon!
Because all of this I was really excited and also nervous about my presentation, I know that Project Management is not the most attractive topic on earth in general, and specifically in SEO is not something seen as fundamental as other activities.
Nonetheless, I wanted to show how in many situations -especially in large SEO processes-, bad project management can mean the failure of the SEO process and how by taking into consideration rather simple principles and activities you can minimize possible issues and be able to deliver a much more cost effective SEO project.
For this I developed my presentation around the story of an SEO consultant facing different, typical SEO scenarios and issues providing SEO Project management tips and guidelines to solve them… take a look:
I'm really thankful since I received fantastic feedback from the presentation, I'm happy to have accomplished the purpose I had with it and I expect that SEO Project Management is taken much more into consideration in our SEO Processes.
Finally, besides learning a lot and sharing, I also had a lot of fun meeting in person SEOs that I previously followed in Twitter and connecting with new ones -people from all around the world, from Australia to Brazil-, sharing experiences and perspectives, besides seeing again many others that I already had the opportunity to meet before in a very laid back and friendly environment.
As you can see MozCon had it all! I want to thank SeoMoz for simply the best SEO conference I've attended so far… it has been an amazing experience.